CARICATURIST AVIGNON
Event in Avignon
CARICATURIST AVIGNON
Event in Avignon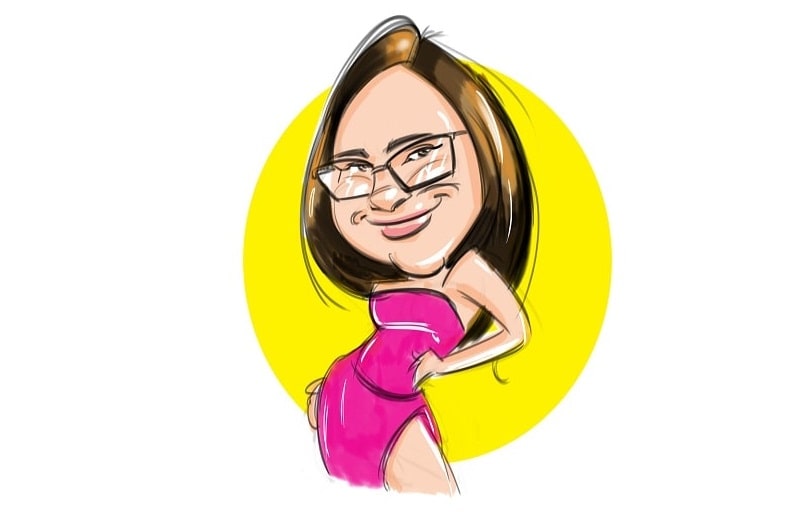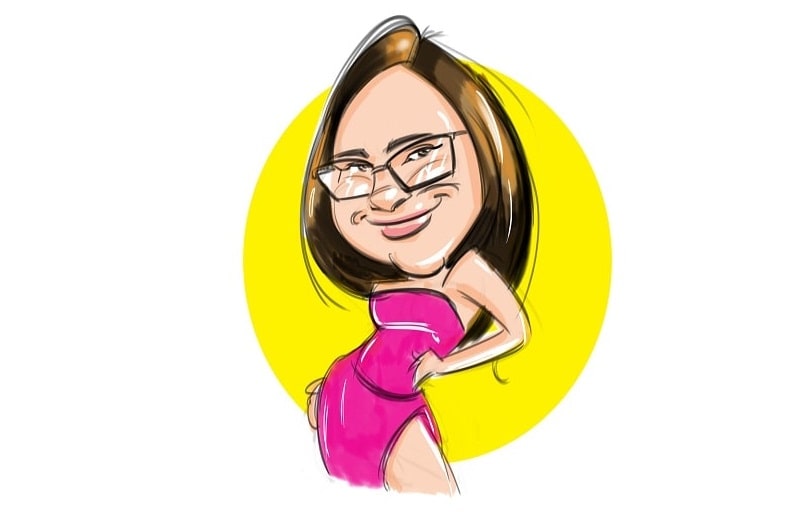 Video caricatures
Video caricatures
From home with a good coffee, have yourself sketched and get an original caricature in a few minutes.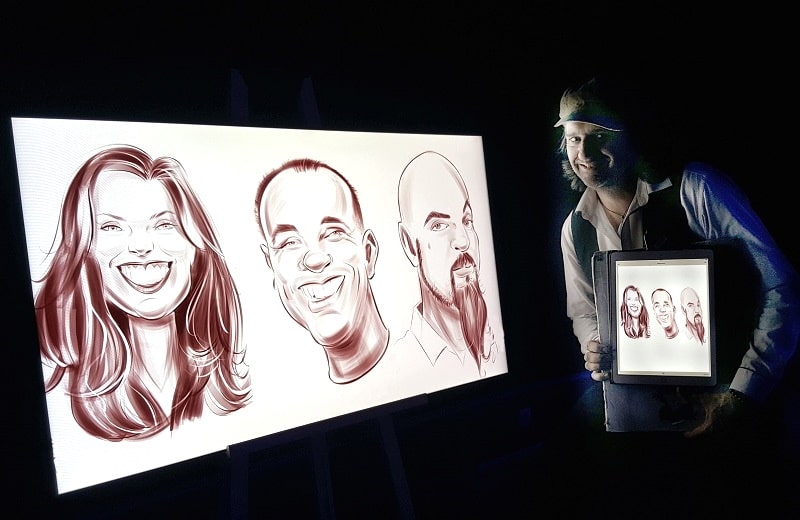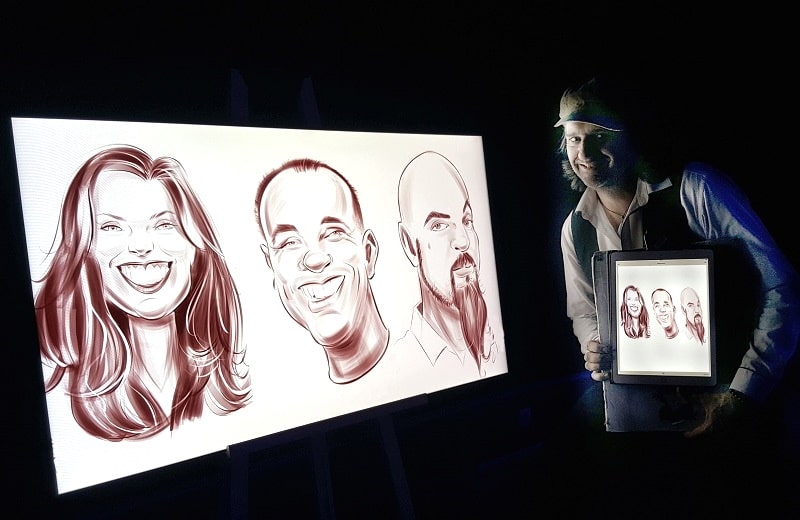 Digital caricatures
Digital caricatures
When the stylus replaces the pencil and the tablet replaces the sheet of paper, you get an original portrait.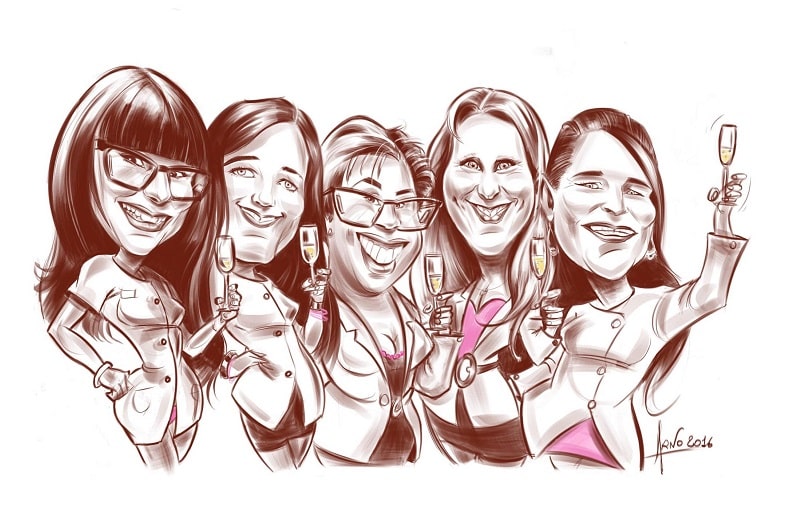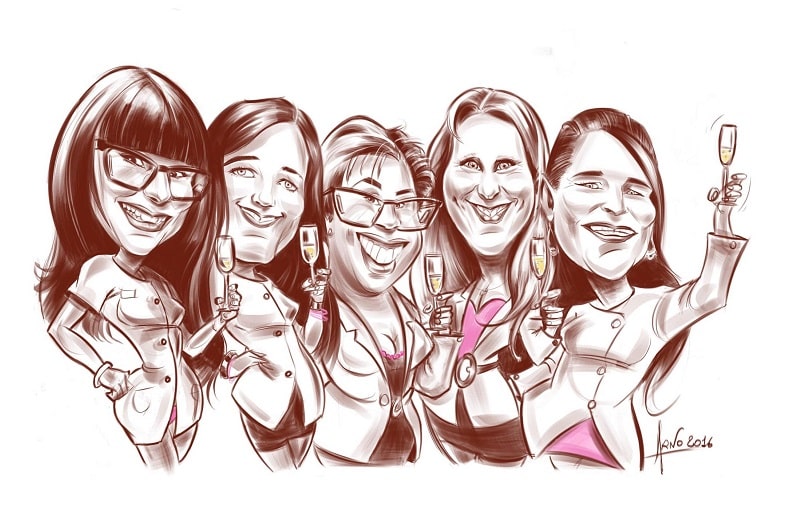 Corporate headshots
Corporate headshots
Point out the originality of your company and your team with an original caricature headshot.
Do you have an event planned and you don't know what to do to bring it to life? Call on a caricaturist for any evening entertainment in Avignon! The fascinating power of drawing goes far beyond what you think. All it takes is a sheet of paper and a pencil for this illustrator to cheer everyone up.
Caricature to entertain an event in Avignon in an original way
All celebrations, whether private or public, lend themselves to the performance of an events caricaturist in Avignon. This artist will appeal to young and old alike. Everyone will even be able to leave with a present that is original, pretty and humorous at the end of the event. The guests will keep wonderful memories of this unique moment. To entertain  a birthday party, a wedding, a cocktail reception …, ask for the help of a caricaturist in Avignon.
The Entertainment made by a caricaturist in Avignon will introduce you to a new technique for entertaining parties, getting off the beaten track. His original humor and finesse will delight your guests while helping to create a friendly atmosphere. For your corporate events in Avignon too: a professional stand, a retirement, an inauguration … the service of Arno Caricaturiste in Avignon ensures successful animation and the promotion of your brand.
How does the caricaturist proceed during an event in Avignon?
The service of this illustrator takes place at the location of the event. As a professional evening entertainment organizer in Avignon, he is responsible for creating a friendly and unforgettable atmosphere. He interacts with guests and hosts. Arno Caricaturiste sketches them while having them chat in order to find out what interests them in order to personalize the drawing he makes.
The caricaturist can make his drawing at a fixed location. The event manager in Avignon will have to set up a dedicated space where the guest who wishes can be illustrated. The illustrator can also walk around the audience, going from one group to another. The atmosphere is noticeably relaxed, as guests are more likely to chat with each other during the caricature session.
If you think that a caricature is only done with paper and pencil then you are wrong. Today, this service is going digital. This draftsman handles both pencils and digital tools. Arno Caricaturiste of your evenings in Avignon, can therefore make a digital caricature directly on his tablet.
During the event, consider displaying the drawings made in a given space or projecting them on a giant screen. They will make all the guests  smile . At the end of the evening, everyone can leave with their caricature under their arms and unforgettable memories.