CARICATURIST PARIS
Event in Paris
CARICATURIST PARIS
Event in Paris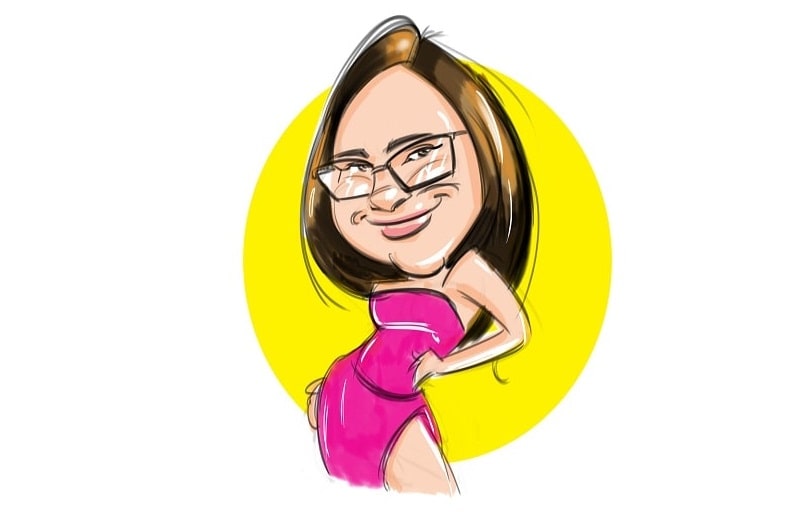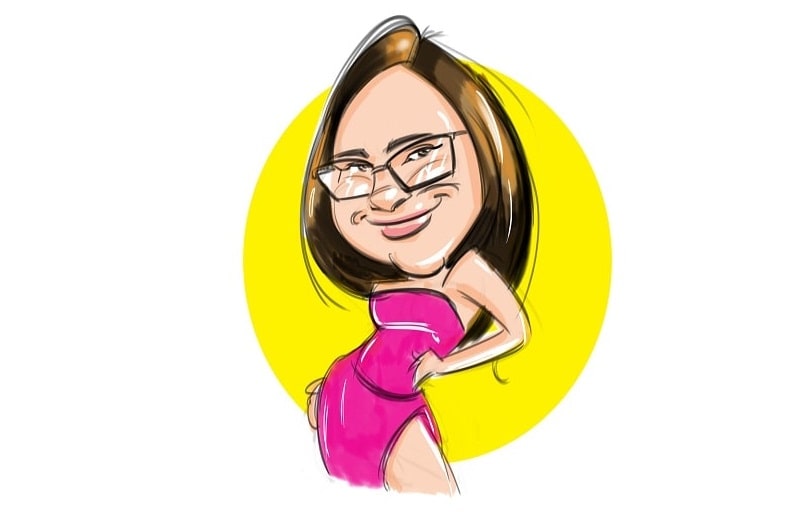 Video caricatures
Video caricatures
From home with a good coffee, have yourself sketched and get an original caricature in a few minutes.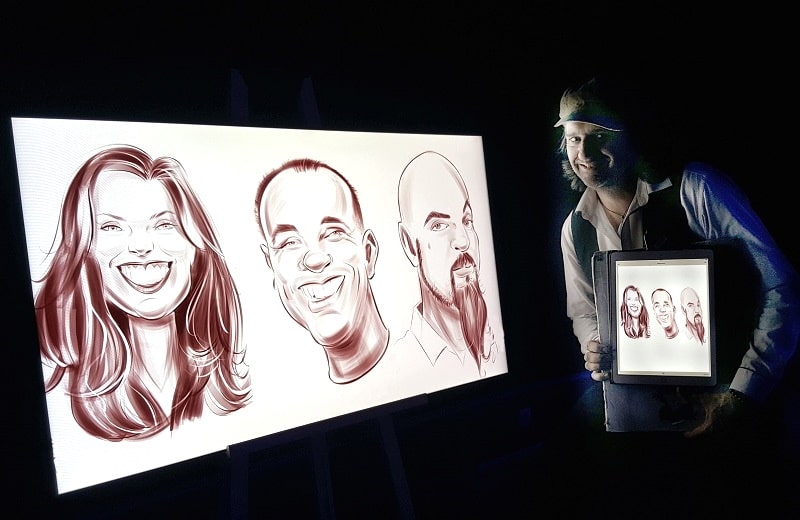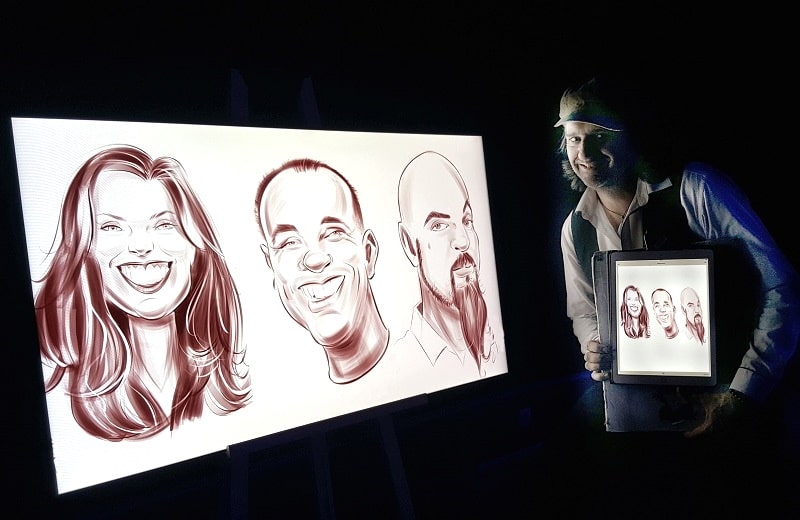 Digital caricatures
Digital caricatures
When the stylus replaces the pencil and the tablet replaces the sheet of paper, you get an original portrait.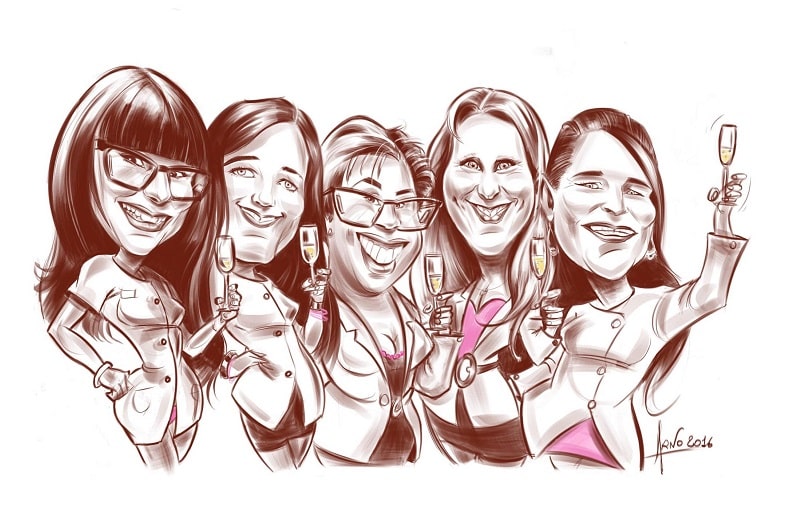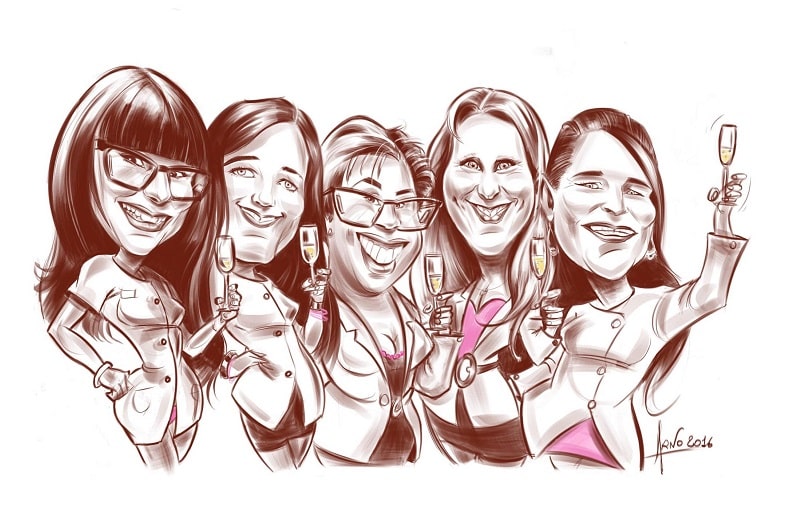 Corporate headshots
Corporate headshots
Point out the originality of your company and your team with an original caricature headshot.
If we all have in mind the image of the cartoonist who sketches a pretty couple in Paris on the Bute Montmartre, Arno offers his entertainment services at trade fairs and can sketch online, it is the cartoonist 2.0
Arno, caricaturist on trade fairs in Paris
When a cartoonist is at work in a living room, the crowd gathers around him to discover how he perceives his victims, to try to understand how the cartoonist sees and sometimes exaggerates little and sometimes more the traits that characterize us. .
Parisian salons are places where onlookers like to be surprised and see things they are not used to seeing. The cartoon will arouse their curiosity and quickly attract them from the first victim.
Arno is in great demand throughout France and sometimes even abroad to host trade fairs, but also to host weddings, professional or private parties. In recent years Arno has also connected by offering video cartoons, video clips for businesses, and much more. To discover in the services of the site.
Expert in events in Paris, Arno can offer a whole range of caricaturist services in which the guests will leave with an unforgettable memory of the event, as for weddings or original evenings and always under the sign of humor and good mood. The same goes for Parisian shows and fairs … Each victim who passes between Arno's pencils, will leave with an unforgettable memory that they will gladly hang in their living room or in their room, then each time that they will look at this caricature, they will think back to the salon or the fair in Paris and the moment they passed between the cartoonist's pencils, and they will pass hundreds of times in front of these humorous caricatures.
The victims can be professionals, individuals, couples, children, groups, in short …! Everyone passes by there…
Arno, a great frequenter of events and good humor, will make this moment friendly and unforgettable, because even if sometimes the victims wait a few minutes without moving too much, they keep smiling from start to finish, even the most reluctant …
Find out about Arno's services and possible trips by contacting him directly, by phone, email or even on social networks.