Are you looking for an original animation for your company? A unique gift for your employees?
Arno, professional cartoonist, 30 years of experience in the event industry, offers you the trombinoscope.
Why a cartoonist?
Are you no longer satisfied with the traditional trombinoscope and want to bring a more fun side to this traditional exercise? Rather than a photographer, call on a cartoonist! it will immortalize the image of your employees through an offbeat and nice visual!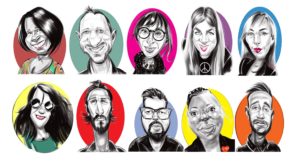 How's it going?
It's quite simple: All you need to do is send me one or more photos of the people you want to "bite".
I then make each of them digitally on a tablet, and put them together on the same board if you wish.
Conditions and deadlines
Each cartoon represents between 30 and 60 minutes of work. You must take this into account if the trombinoscope brings together a lot of people.
The photos must be of good quality, preferably in portrait, and easily identifiable, that is to say, recent (hairstyle, accessories, beard etc.)
The cartoons are usually done in black and white with touches of color, to save time, but it is quite possible to consider doing them in color.
Do not hesitate to consult the prices in the "services / trombinoscope" section of the site.
Technical specifics
I make the cartoons on a 27-inch Wacom tablet: they will then be emailed to you. I can also take care of the printing if you want to offer them to interested parties.
Tell me your expectations and I will establish a personalized quote depending on the number of caricatures to be made, printing, color or black and white etc …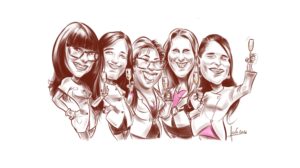 In conclusion:
Calling on a cartoonist to create your company trombinoscope is:
The assurance of thinking outside the box with an original product
The certainty of pleasing your employees with a personalized souvenir
I tell you very soon!